Emergency Dentist Copenhagen
Emergency Dentist in Copenhagen
Dental emergency with no additional fee
Immediate help
Fixed appointment, no queuing
No additional fees
The emergency dentist clinic in Copenhagen is open on weekends and holidays for patients with acute toothache in need of dental treatment and pain relief.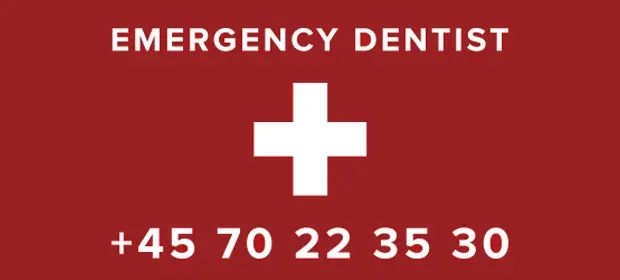 Emergency Dentist
Copenhagen:
Havnegade 51
1058 København K
Hillerød :
Slotsarkaderne 300
3400 Hillerød
Odense :
Kongensgade 72
5000 Odense C
Opening Hours:
Mon-Thursday
: 08:00-18:00
Friday
: 08:00-16:00
Saturday
: from 09:00 AM (Open for calls from 08:00 AM)
Sunday
: from 11:00 AM (Open for calls from 09:00 AM)
Holidays
: from 11:00 AM (Open for calls from 09:00 AM)
Before you visit us at the Emergency Dentist in Copenhagen
Always call us in advance for an appointment. Bring your Social Security Card (Sundhedskort) if you have one. All treatments are to be paid directly. Remember to bring cash or credit card.
Fixed appointment
At many emergency dentists, patients are treated in the order in which they arrive at the clinic, and you risk having to sit and wait for hours. We provide you with a fixed time of day that you can count on.
Since it varies from day to day how many patients are in need emergency treatment, you may experience a small delay. We ask for your understanding on this matter.
– The sooner we know that you need to see the emergency dentist the better.
Emergency Dentist for children
We have extensive experience helping children in our dental emergency service. It is important that the child is calm and feel safe, otherwise it is almost impossible to treat and help the child. Children do not act in the same way as adults, they can't overcome or suppress anxiety. Therefore, we use extra time when dealing with children and parents in order to create a good environment for child and parents. We focus on child safety and emphasizes caring treatment throughout.
All prices are dictated by the agreement between the Dental Association and the Regions. There is no settlement between dentist and parents of children being treated at Dentalklinikken.
Your security & guarantee
We have years of experience in dental services and helping people with urgent dental problems. We are a team of experienced dentists and assistants who have seen everything and solved all of it. To treat people with acute dental problems, is very different from the daily work at a clinic. Therefore, it is necessary to have dentists who are experienced with these problems and understands the patients condition and pain.
Call: 70 22 35 30
Dental pain emergency treatment Copenhagen
Weekends
:
Holidays
:
Palm Sunday
Maundy Thursday
Good Friday
Easter Sunday
Second day of Easter
Labour Day
Great Prayer Day
Ascension Day
Constitution Day
Whit Sunday
Whit Monday
Christmas
:
Christmas Eve
Christmas Day
Second day of Christmas
New Year's Eve
New Year's Day
Other bank holidays
Emergency Dentist Copenhagen